Things to Do in Bhutan
Published on 10th October, 2017 by Tshering Dorji Bhap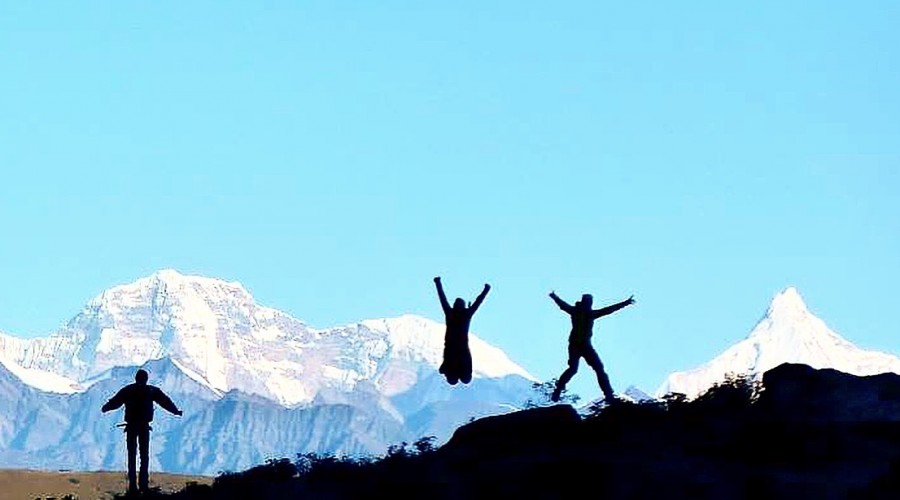 Are you ready for some action?
Bhutan, popularly known as the happiest destination in Asia has a lot in offer. Your Bhutan trips can be action-packed or serenity-filled, as you desire. In this post I am going to write about things you can do in Bhutan.
Before anything, do you need some safety tips?
Don't worry! Bhutan, the happiness land is the safest place on earth. You need not worry about safety in this country. Being the only surviving Mahayana Buddhist country, crime in this country is nowhere to be seen. The unique developmental philosophy of the country (Gross National Happiness), its happy and friendly people makes Bhutan the safest place to travel.
So, what are the things you can do in Bhutan?
The tiny Himalayan kingdom of Bhutan, often called as the Last Shangrila is not just a Shangrila with gigantic temples filled with monks. It is indeed a happy place with happy people celebrating their unique and colorful culture, tasty food and festival, art and architecture, history and monuments along with its breathtaking landscapes, there are so many exciting events and activities to do. You can choose what to do in Bhutan.
Serenity activities
The retreat traditions of the Bhutanese lifestyle go back hundreds of years. You can transform yourself into a new person in this peaceful country. Give yourself a break from the rush and crush of modern life, you can choose to stay put at a peaceful monastery and meditate, get yourself indulge in the monastery life. The other option is to go on a spiritual, wellness or retreat tour organized by the local tour operators. If you are looking for spiritual journey, this little Buddhist nation is the best gateway to spirituality.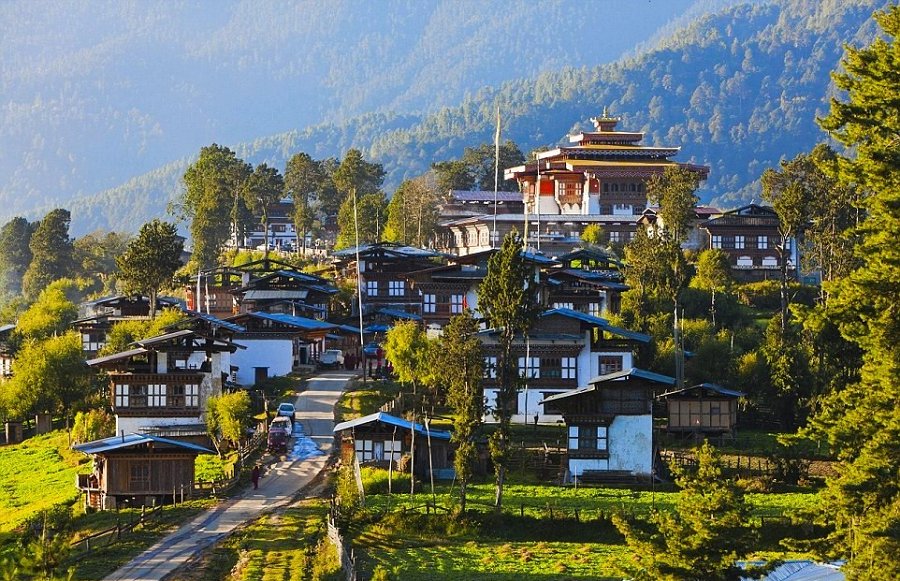 Cultural tours/community visit
Bhutan has a profound cultural diversity. With more than 80 percent of country being Buddhist, the ways of the Buddhist practice have had a huge impact on the Bhutanese culture. The influence of Buddhism is very visible in the everyday life of the Bhutanese people.
The country boasts of thousands of monasteries and the landscape is dotted with stupas, prayer wheels, prayer flags and many other insignias celebrating the Buddhist religion.
The preservation of culture has always been accorded the highest of priorities and it was outlined as one of the four main pillars of the country's unique development philosophy of Gross National Happiness.
Tsechu Festivals
Tsechu festivals are religious festivals conducted in various locations in different seasons but it always begins on the 10th day of the Bhutanese calendar.
During the festival, monks and laymen perform mask dances over a stretch of three to five days in a temple or monastery. The mask dances are performed to commemorate the life of Guru Padmasambhava and other great Buddhist masters.
Tsechus customarily concludes with the unfurling of Thongdrel (large scroll painting) of Lord Buddha, Guru Rinpoche, Zhabdrung and other enlightened beings.
Tsechus are grand events where entire communities come together to witness religious mask dances, receive blessings and socialize. Besides the religious dances and songs, atsaras are a major attraction during tsechu. Atsaras usually don hilarious looking masks with large protruding nose and often with a phallus dangling from the head. They signify enlightened wisdom and their acts indeed to cleanse the collective sin of the people gathered to witness the religious dances. The festival is also an occasion for the people to wear their best finery, socialize and make merry. More importantly people attend tsechu to gain merit.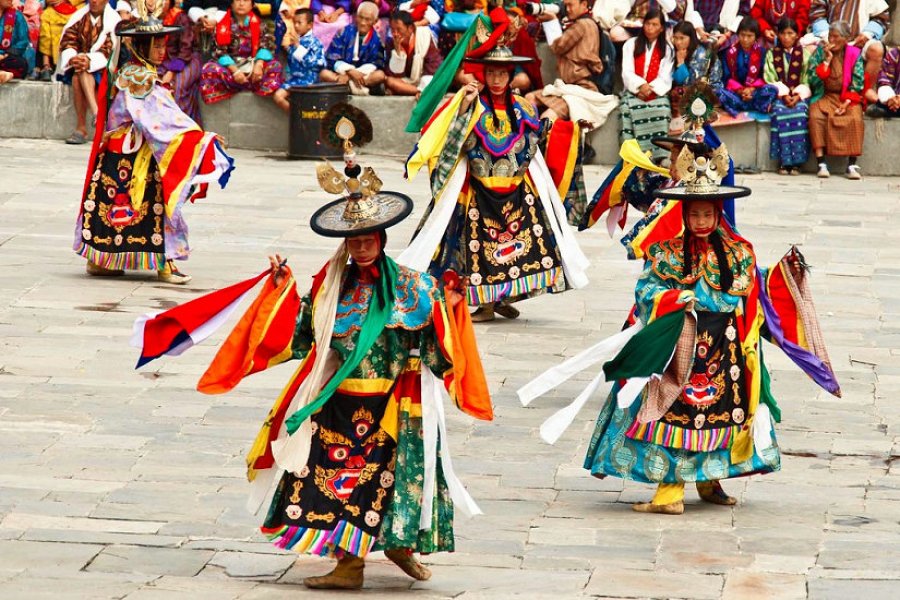 Theme based festivals
Besides the numerous religious events. Bhutan also hosts a variety of theme based festivals, celebrating the country's rich culture and arcane lifestyle. Festivals like the Nomad Festival, Masutake Festival, Jomolhari Mountain Festival, to name a few, offer a glimpse into the unsullied culture of ethnic communities and their unique traditions. These are a few big draws among locals and tourists alike.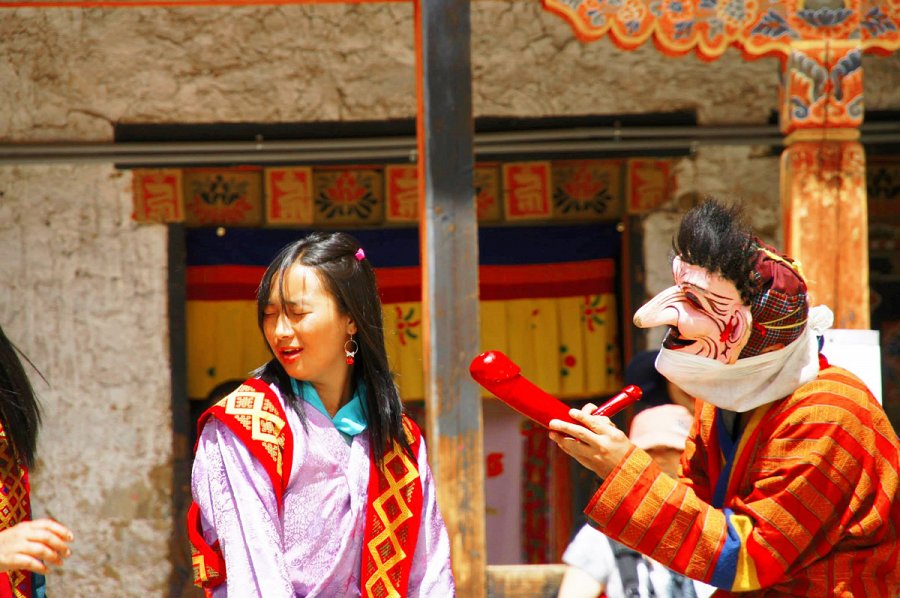 Adventure
Located in the Eastern Himalayas, Bhutan's mountainous geography and rugged topography provide exciting opportunities for adventure activities of all kinds. From hiking, trekking and kayaking to river rafting, mountain/motor biking and fishing, the choice is abundant. Bhutan truly offers one-of-a-kind experience for travelers seeking adventure in an unspoiled and unexplored environment.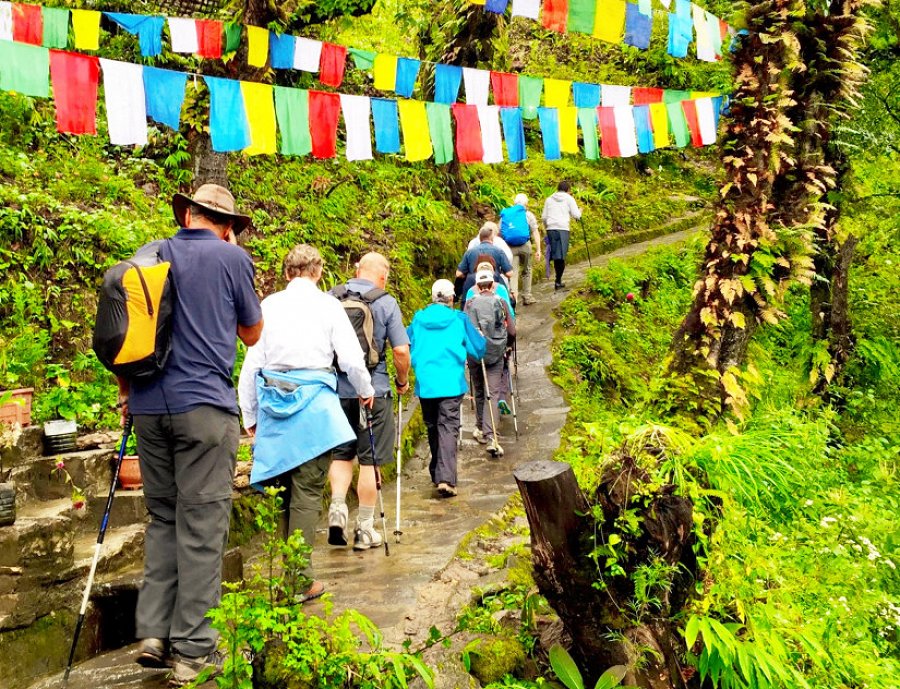 Trekking
Trekking in Bhutan is unlike anywhere else in the Himalayas, complemented by crystal clear air and views that sometimes defy description makes it a trekker's paradise. It is bountiful destination for nature lovers with virgin mountain lakes, imposing glaciers, rich Himalayan ecosystem which is home to many endangered birds and animals. Most trekking routes are in the northern region of the country taking you teasingly close to the snowlines and letting you experience breathtaking landscapes.
From short two to three-day trek to a grueling trek of 32 days called Snowmen trek- considered to be the toughest trek in the world – Bhutan offers all kind of trekking experience. Most trekking routes also offer a wonderful opportunity for wildlife enthusiasts and photography.
Mountain Biking/Cycling
You might not encounter a King of a country cycling right next to you elsewhere but in Bhutan you do. The former king is a cycling enthusiast and can often be seen cycling along the Buddha point and Sangaygang biking trials.
The rugged mountainous terrain of Bhutan provides an ideal landscape for mountain biking. It offers both on-road and off-road trails with breathtaking scenery. The sport is gaining popularity among both visitors and Bhutanese alike.
There are variety of biking routes available ranging from smooth journeys on paved roads to challenging off-road dirt trails that wind through rough terrain.
Many of the biking trails lead through small villages and temples which can provide interesting and informative diversions should you wish to take a break.
The Tour of the Dragon (Bicycle race) is annually held in Bhutan in autumn. It is considered one of the most challenging one-day events in the world, the race covers 286 kilometers of stunning Himalayan landscape as it takes the cyclist from central to western Bhutan. The trail elevations range from 1200- 3340 meters above sea levels.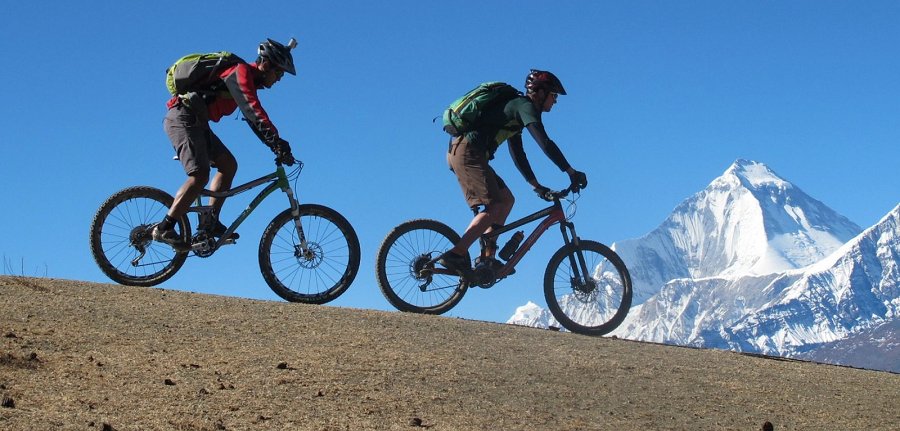 Kayaking and rafting
The glacier fed rivers of Bhutan originating in the eastern Himalayas and gushing down to the southern foothills provide an ideal challenge for water sports like kayaking and rafting. The pristine natural setting and the sheer variety of the river courses provide a unique opportunity to explore Bhutan's beautiful wilderness.
Adventurous travelers will not be disappointed by the rugged, untamed waterways of Bhutan. The rivers are plentiful with strong currents varying between slow, gentle flows in some places and powerful raging torrents that can be found throughout the country.
The river courses available in Bhutan offer something for all visitors, regardless of experience, there are easy routes for the beginners and hair-raising runs for the veterans. The best time for rafting and kayaking is from March-April and October -December.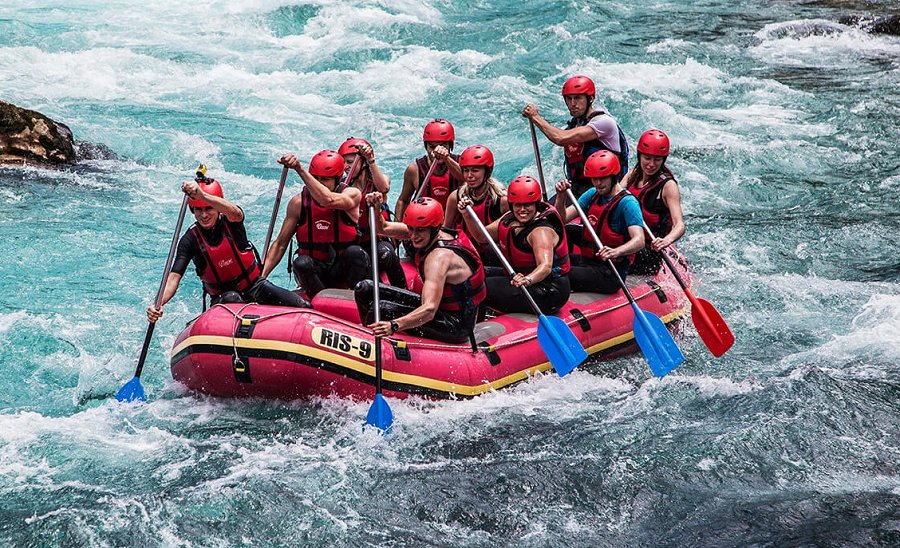 Entertainment
Some of the tour operators organize cultural shows on request while some include it in the package. The Royal Academy of Performing Arts in Thimphu works to preserve the unique folk dancing heritage in the country and its dancers are expert in all forms of this unique art.
The National sport of the country, archery, is a celebrated sport and every game of archery attracts huge crowd of onlookers. Every game of archery is an event where Bhutanese culture is at display in its glory. Khuru (dart) is a similar sport.
Nightlife entertainment can be found in urban towns. Thimphu and Paro have a good number of cozy restaurants and bars. You can also find discotheques, clubs and karaoke. Some of the most popular nightlife venues are Mojo Park, Viva city, Khuju Luyang, Space34 and club Ace.
If you are in the rural areas, taking a refreshing hot bath in a traditional herbal hot stone bath is very popular. You can also try the traditional rice wine (ara)
Bird watching
Bhutan is increasingly being described as the birding capital of the world. Bhutan boasts of about 900 species of birds and there are many yet to be spotted, believes the bird experts.
It is almost equal to the 925 species found in the US and Canada combined. About 50 species of the known birds are winter migrants. The country harbors more than 16 species of vulnerable birds.
Bhutan is home to many birds that are in danger of extinction, including the Imperial heron, which is one the fifty rare birds in the world and the rare Black-Necked crane, which breeds in Tibet and then migrates over the Himalayas to Bhutan during the winter months. The cranes can be spotted in Phobjikha valley in western Bhutan, Bumthang in central Bhutan and in Bumdeling in eastern Bhutan. They migrate to Bhutan in the months of September and October and fly back to Tibet between February and March.