The Hidden Gem
Published on 15th May, 2018 by Tshering Dorji Bhap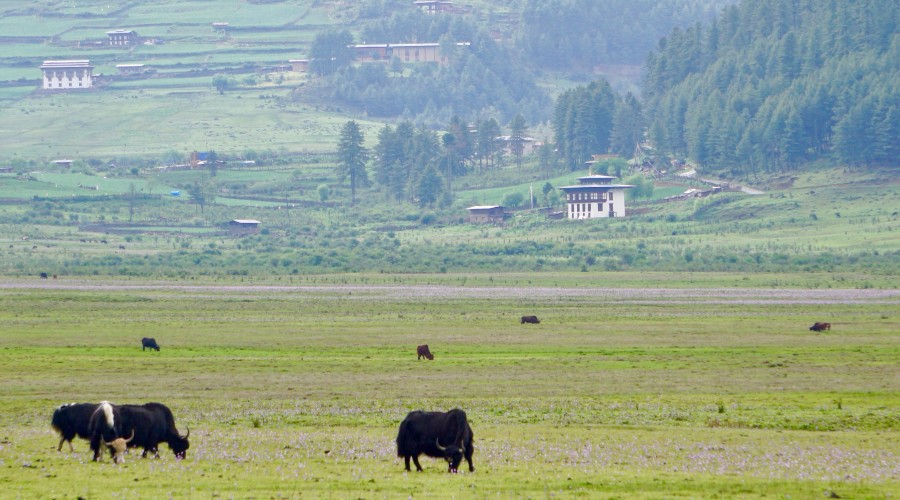 THE HIDDEN VALLEY OF PHOBJIKHA: SACRED WILDLIFE, RICH CULTURE AND PEACEFUL ALPINE MEADOWS
From the moment you veer off the main east-west highway connecting Thimphu to Eastern Bhutan, there is a sense you are embarking on an extra-ordinary journey to a hidden place. Indeed, many tourists never make it past Punakha to the turnoff road just 85 km east of Wangdue Phodrang town, nor realise the majestic valley they are unknowingly bypassing on the other side of the mountains as they continue along the road from Thimphu to Trongsa or Bumthang. For those who do make the journey, the sense of awe grows as the road lined by red and pink rhododendrons winds back and forth, and up, eventually emerging at the high pass of Lawala at an altitude of 3,360 metres, where a choeten brightly reflects the sun, surrounded by emerald green pastures where majestic yaks graze peacefully. The road continues past the historic Gangtey Gompa perched on the mountain edge high above the valley, and eventually winds its way down. Fleeting glimpses of the valley below reveal traditional wooden houses surrounded by farmers' fields and abundant green pastures framed by stunning mountains. However, these brief glimpses from the winding mountain road do not do justice to what lies ahead.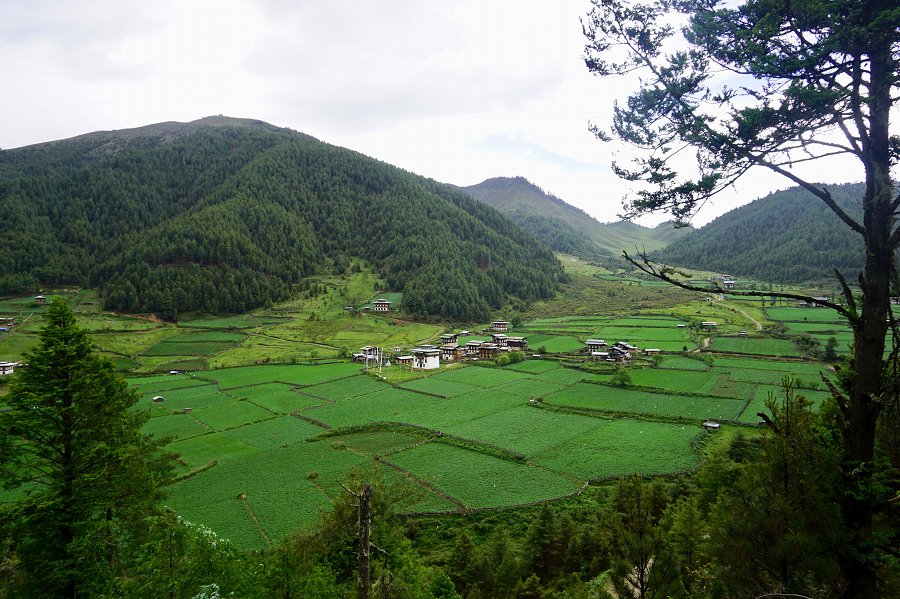 A PEACEFUL OASIS
Comprising blissful, picturesque scenery, Phobjikha is one of the favorite valleys in Bhutan. A place where sacred wildlife, Buddhist history, awesome alpine landscapes and Bhutanese culture meet, it provides a peaceful oasis to break one's journey, or a longer respite from the hustle and bustle of life in the city. For some, it's a much-needed stop-over as they make their way on the winding mountain road connecting Paro or Thimphu to Eastern part of Bhutan such as Bumthang, Trongsa, Mongar, Tashigang, and beyond. Often, most travelers feel that a one-day stop-over is not enough as the valley provides a peaceful oasis that requires more time to enjoy fully. There is something magical about the valley as one always feel a deep sense of calm and peace descend over one from the moment you arrive there. The heart of the valley remains pristine, made up of protected alpine wetland that is a critically important migratory winter habitat for the famous black-necked cranes. It is also important for local livestock and, on any given day, it is possible to see horses, cows, yaks, and sheep grazing peacefully on the pristine grassy pastures. The valley is home to several communities who depend on agriculture, tourism, and sustainable development projects. Phobjikha is especially known for the potatoes that are exported regionally, earning inhabitants a bulk of income. A must-do on any tour is requesting the local guesthouse or farm stay to arrange a tasting of this delicious local delight.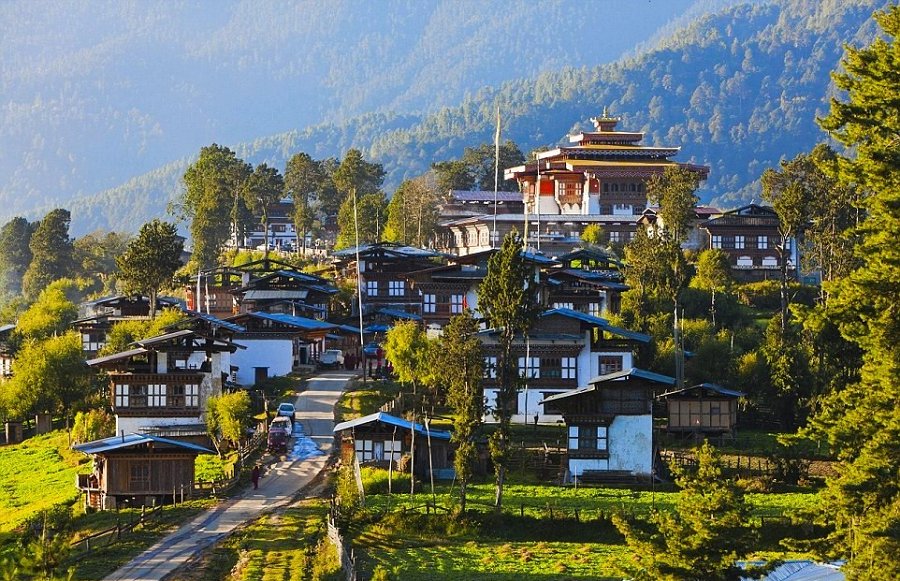 SACRED WILDLIFE
The black-necked crane, endemic to the Tibetan Plateau and adjacent Himalayan regions, is a sacred, yet vulnerable species. With striking eyes, a black head and a red crown, it is a majestic bird, weighing approximately 5.3 kilograms, standing 1.4 meters tall, with an impressive wing span of over two meters. From the global population of just over 10,000, approximately 500 cranes winter every year in the pristine marshy valleys of Bhutan. After spending their summer in Tibet, they migrate several hundred kilometers, often flying over 6,000 meters (above 20,000 feet) over the Himalayas, to their winter roosting grounds in the lush wetlands of the Phobjikha valley. A smaller number flies to other valleys east of the country such as Bumdeling, Khotokha, and Bumthang which provide other pristine habitats. The black-necked cranes are not only significant to the people living in Phobjikha valley, but to the people of Bhutan as a whole. Their return is eagerly anticipated every year, and their arrival is reported on television by the Bhutan Broadcasting Service and national newspapers. They arrive in Bhutan from late October to late February. With a gradual increase in their numbers over time, this trend was confirmed this year, with their numbers being particularly high. This is good news for conservationists who have been working tirelessly to protect these majestic cranes from the threat of modern development. They are legally protected in Bhutan and are listed under the Red List category of vulnerable species of the International Union for the Conservation of Nature. Bhutan government and the Royal Society for the Protection of Nature (RSPN) carry out important work to protect these majestic species of cranes. RSPN meticulously records and monitors the entire black-necked crane population that winters in the valley. Most recently, during the peak winter period in 2016, a traumatized crane was found injured in the valley. After some effort to rescue the suffering crane, it was housed at the black-necked crane visitor center, where eventually a special enclosure was built to accommodate it. The crane, named Karma, is now a bit of a celebrity. It is unclear how Karma hurt its wing leading to multiple bone fractures. Its injury is so severe that it is unlikely to return to the wild or fly back to its summer habitat in Tibet. In the meantime, Karma has adjusted to its enclosure and is monitored, fed, and looked after around the clock. Perhaps the first crane to spend the entire summer in Bhutan, Karma has attracted tourists and visitors who feel moved upon hearing its story of suffering (his full story can be viewed on YouTube or on RSPN's website). However, when you meet Karma, its longing gaze at the open valley below gives you a sense that it yearns to fly back to Tibet to be with its flock. It is easy to be moved by Karma's story, given that black-necked cranes are highly social, demonstrative, and monogamous, nurturing their chicks. Although Karma is in captivity, due to its inability to fly and protect itself from predators, while attempts are made to rehabilitate it, people are drawn to Karma due to the general mysteriousness surrounding black-necked cranes, its migration, as well as the amazing way in which the majestic bird makes loud calls, dances, and demonstrates its emotions. RSPN is making efforts and fundraising to expand Karma's enclosure so that it can live in its new home with more space and comfort. Beyond the moving story of Karma, it is important to keep in mind that these cranes are vulnerable to extinction. This has inspired conservation efforts to preserve and protect the birds' habitat, the lush wetlands of the Phobjikha valley.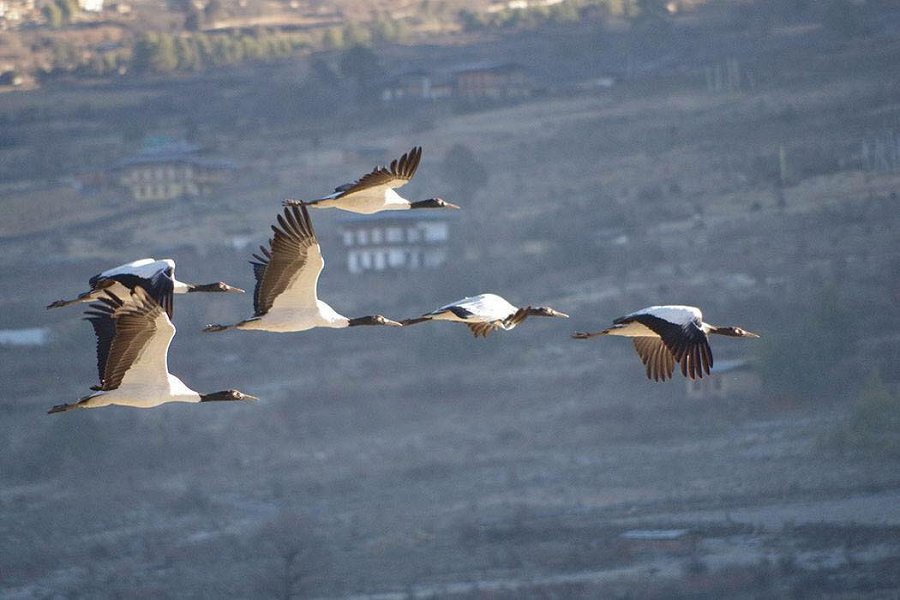 CULTURE IN PHOBJIKHA
The story of the black-necked crane illustrates the importance of culture in Bhutan as it plays a noteworthy part in folklore, cultural beliefs, ceremonies, and traditional art. For instance, the majestic birds are painted on the walls of monasteries and houses, their images are woven into carpets, and crafted into traditional arts, including thangkas (traditional Buddhist paintings). In Bhutan, they are revered as heavenly birds symbolizing peace, happiness, loyalty, beauty, grace, love and long life, while their migratory flights make them symbols of strength and endurance. It is said that local people in Phobjikha valley do not plant their crops until the cranes have circled overhead as it is believed that the cranes provide blessings to their fields as they leave to migrate. In Tibet, legend describes the crane as carrying previous incarnations of His Holiness the Dalai Lama on their backs from monastery to monastery. The special status of the cranes in Bhutan is reflected by the fact that an entire festival is organized around this beautiful bird species. What you will like about this tshechu is its small, intimate and local nature, providing amazing opportunities to mingle and interact with local women and men from the valley. The Black-necked Crane Festival is an annual event in the Phobjikha valley, celebrated on the courtyard of Gangtey Gompa. The event is an occasion for people in the valley to rejoice and celebrate the arrival of this endangered and majestic bird that has become an integral part of their daily lives during the winter months. The annual festival is organized to generate awareness and understanding of the importance of conserving this endangered species. The festival includes cultural programs such as folk songs, some with black-necked crane themes, mask dances performed by local people, and environmental conservation-themed dramas and songs by school children. This year's festival will take place on November 11. Also, of interest is the Gangtey Gonpa, during which colorful and mesmerizing mask dances are performed, concluding with the Nguedup Langwa (receiving of spiritual wisdom/power) which is a special blessing ritual for all visitors. Valley residents gather at the tshechu for a series of performances and mask dances in colorful traditional costume. The most popular dance features a parade of the local school children in black and white crane costumes, interpreting playful mating dances performed in rhythm to recordings that echo their calls. On the last day of the festival, a large thongdrol depicting Guru Rinpoche (a gigantic three-story thangka) of the 8th century, a highly revered Buddhist master and saint, is displayed. The viewing of the thongdrol is considered "liberation through seeing", and is a sacred event attended by communities living in the valley, visitors, monks, and nuns.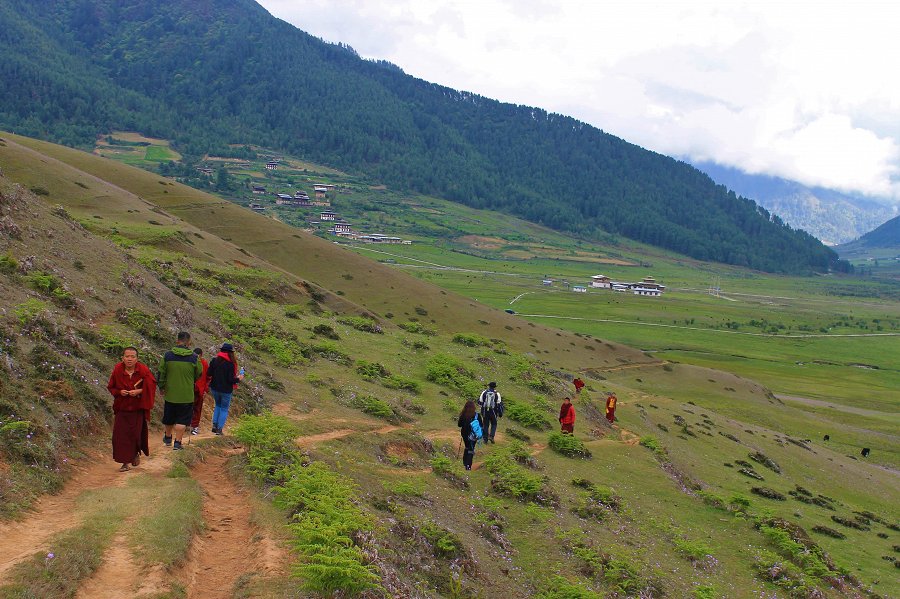 PEACEFUL RETREAT
The breathtaking, wide open valley of Phobjikha is a heavenly retreat. With streams, shallow ponds, and vast expanse of boggy wetlands covering the valley bottom, it is buttressed by expansive tree-covered mountains. The wetlands are highly protected and remain intact to ensure the conservation of this important habitat for the majestic black-necked cranes. If one looks carefully, there are no power lines visible in the valley. This is because the government has invested heavily in ensuring all electrical wiring is placed underground, so as not to interfere and disturb the cranes. The low-lying hills surrounding the valley have, however, changed somewhat as new resorts, hotels and home-stays sprout up in response to growing demand from tourists, a point I return to below. One of the favorite spots in Phobjikha is the small but picturesque Khewang Lhakhang located in the heart of the valley. The 15th century temple was built in Tibetan style, with a single altar room where three ancient statues are housed. The spirituality and serenity of the temple is reflected in its historical simplicity. There is something special about this temple, as both the interior design and the statues transport you back in time. The Phobjikha valley is an ideal place for hiking as trails gently meander through both villages and forests. It's a great place to arrange a home-stay, which allows you to observe real life as lived, helping tourists to experience how tradition and modernity blend in rural contexts of the country. The valley is also fast-becoming an ideal destination for eco-tourism, as green tourism becomes more important to tourists and villagers who inhabit the valley. Through ethical, respectful, holistic, and responsible eco-tourism, we can ensure that the valley remains an important habitat for the majestic black-necked cranes, and continues to be a pristine, protected area for generations to come