EASTERN BHUTAN TOUR
The Royal Government of Bhutan has announced the waiver of royalty for all tourists visiting Eastern Bhutan till the end of 2020.
While eastern Bhutan is one of the least explored regions of the Kingdom, it has numerous things to do and see. Eastern Bhutan also is home to the seat of the Royal Wangchuck Dynasty. Be the luckiest and first to retreat in the idealistic rustic countryside of Six Eastern Districts of Mongar, Lhuntse, Tashiyangtse, Trashigang, Samdrup Jongkhar and Pemagatshel. The Eastern Bhutan is yet to be discovered!
The Eastern Bhutan is unbelievably serene, unpolluted, relaxed and uncluttered by modern distractions, full of life and far from materialistic. Visitors have opportunities to explore and experience calmness and solitary life of this uncharted lands that will fill your heart with equanimity. The sight of all forms of beauty – greenery sceneries, gushing waterfalls, blazing flowers, diverse vegetation and majestic mountain range is enough to make your eye wander.
HIGHTLIGHTS OF EASTERN BHUTAN
National Park and Wildlife Sanctuary : Eastern Bhutan has one of the richest temperate Fir forests in the eastern Himalayas and provides an ideal protected habitat for big cats like Tigers and Leopards. The region is also home to many other rare animals including Barking Deer, Himalayan Black Bears, Red Pandas and hundreds of Black Necked Cranes that migrate to the region every winter. The parks and Sanctuaries are home to hundreds of Flora and Fauna. One gets to experience the rich diverse vegetations. The potentials for rafting are promising!
Observe The Agricultural Practices : Almost all the people in the East are farmers and agricultural practices are dominant, mainly living on livestock and crops. Maize is the main crop grown mostly in Mongar, Trashigang and Pemagatshel while potatoes, oranges, Banana and other fruits are also grown widely throughout Eastern Bhutan. Most of the food in urban Bhutan comes from Eastern rural, which are hygienic, fresh and organic.
Trek to Merak and Sakten valleys : The valleys were closed to foreigners until 2010, to protect the unique cultural heritage of the Brokpa people and in part to give the mythical Yeti some peace, whose tales of wandering in the valley is very popular among the locals. Until then, only a handful of researchers and tourists have been granted permission to enter this area, and even today, only few trekking groups make it to this remote region in Eastern Bhutan. The Brokpas, semi-nomadic inhabitants of the region, migrate through the seasons with their yaks: moving between the highlands in summer and the lowlands in winter. The Brokpas still engage in the barter system, trading cheese, butter and dried meat for grains and other goods that are not readily available to them.
Visit Takila, Lhuentse : One of the world's tallest statue of Guru Nangsi Zilnon, about 154ft is located in Lhuentse beautifully set on a hill of Takila above the Tangmachu village in Lhuentse. The ancient province of Lhuentse is in Bhutan's north-eastern corner. While it is one of the remotest Eastern district in Bhutan, it is the inherited domicile of Bhutan Kings & features some sanctified pilgrimage sites in the country. The countryside is exceptional, with desolate cliffs soaring above river valleys & dense coniferous forests.
Explore the Traditional Arts : Eastern Bhutan is popular for its traditional arts, and it is known to be the finest in the country. The traditional arts are considered the highest form of art and spiritual expression. The knowledge and skills required have been passed down through matriarchal and Buddhist Lama lineages for countless generations. The region is home to Bhutan's queen of handlooms (Kishuthara) and eastern Bhutan produces some of the best handicraft and wood products.
Visit the Unique Festivals of the East : The region has some of the most unique festivals and are usually rollicking affairs. The festival comes alive with vibrant colors, music, dances and drama as people gather to enjoy the masked dances and other sacred rituals. It is an opportunity to join the locals in taking part in an important religious and social occasion that often exudes a carnival atmosphere. The festivals of the Eastern Bhutan are listed below:
| | | |
| --- | --- | --- |
| FESTIVAL | PLACE | DATE |
| Gomphukora | Gom Kora Lhakhang, Trashigang | 24 – 26 March |
| Chhorten Kora | Chorten Kora, Trashiyangtshe | 31 March & 16 April |
| Takila Chham | Takila, Lhuntse | 26 August |
| Mongar Tshechu | Mongar Dzong, Mongar | 15 – 18 Nov |
| Trashigang Tshechu | Trashigang Dzong, Trashigang. | 17 – 19 Nov |
| Pemagatshel Tshechu | Pemagatshel Dzong, Pemagatshel. | 23 – 25 Nov |
| Lhuentse Tshechu | Lhuentse Dzong, Lhuentse | 15 – 17 Dec |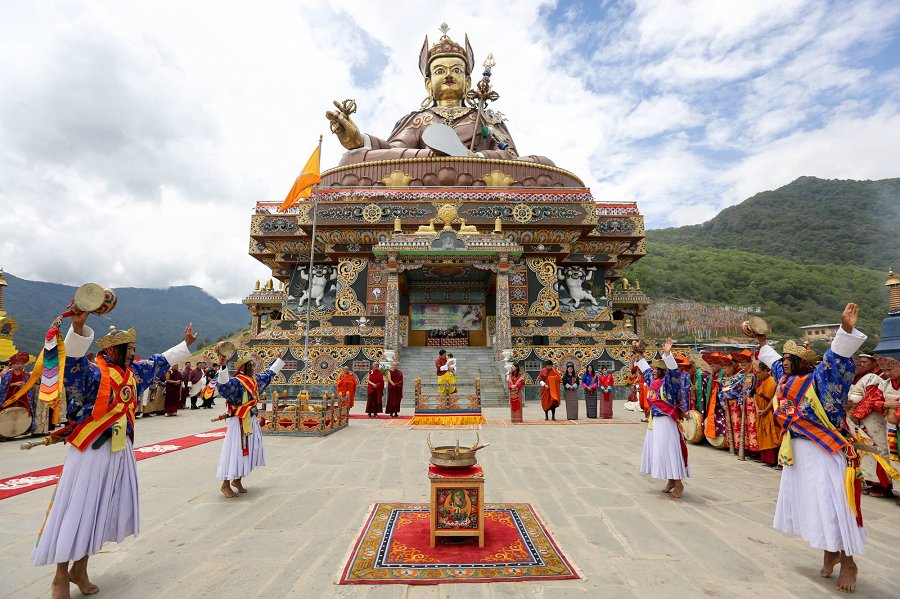 HOW TO GET HERE IN THE EASTERN BHUTAN ?
By Air : Yongphula Airport, some 45 minutes drive from Tashigang town, was reopened after many year of repairs. There are 3 flights per week operated from Paro Internatinal Airport to Yongphula. One can also choose to fly to Bumthang Domestic Airport and go by road from Bumthang. Currently domestic flights tickets can only be purchased at Drukair Thimphu office. International travellers wishing to book Drukair's domestic flights should contact agents like us to make a booking. A passport copy will be required for booking Drukair's domestic flights.
By Land: Travelers have land access from Guwahati, the capital of Indian state of Assam. If you don't mind to skip the beautiful valley of Paro, you can travel to the Eastern Bhutan via Guwahati. It is a three hours' drive from Guwahati Airport to Bhutan border town of Samdrup Jongkhar. There are frequent flights from Delhi to Guwahati.
OVERVIEW
Road and transportation : Anyone with regular health condition can sign up for tours in the East, as this is largely a motor vehicle based tour with some optional Treks and Hikes. If you are not into Trekking, most part of the eastern Bhutan are accessible by car. Traveling from one district to another requires 2-3 hours driving. The roads are perfectly paved and are often carved into hills and follow rivers. We travel in SUV, Mini Van and Japanese coaster bus, depending on the group size. Drivers are skilled and know the Bhutan roadways very well. Driver may speak little or no English. The guide and driver are not the same person.
Accommodations : In Eastern Bhutan, we do not have luxury 4 & 5 star hotels. There are some 3 stars (by local standard) hotels, guest houses and resorts which are small properties with 10-15 rooms. They are built in traditional Bhutanese architecture. You will have en suite bathroom with running hot and cold water. The hotels exhibit Bhutanese decor and are generally comfortable. All the hotels provide free Wi-Fi. The lobbies and receptions are cozy. They are staffed with friendly locals. Visitors also have options to stay at village home stays.
Hotels Used
Wangchuk Hotel in Mongar
Phayul Resort in Lhuntse
Drukdoethjung Resort in Tashigang
Choki Farm House in Tashiyangtse
Druk Mountain Hotel in Samdrupjongkhar
Village homstays
Meals : Our tour features 3 meals a day with evening tea and refreshments. The local delicacies are rich with spicy chili and cheese. You'll find lots of dairy, a wide variety of fresh organic vegetables, and spices such as cardamom, ginger, caraway and turmeric. Meat and poultry dishes are usually served in the form of stews or curries and all meals are accompanied by either maize or rice.
Tour Guide : Our guides are college educated locals, proficient in English and trained and licensed by the Tourism Council of Bhutan. Interestingly most of our Tour Guides are from Eastern Bhutan and are in the favor of rural life. Obviously they have much knowledge about the way of life in rural East to share with you. Most importantly they are friendly and committed to deliver the best services.
Passport and Visa : Your Visa is Guaranteed by us. Your passport must be valid for at least 6 months beyond the last day of your trip and there must be a blank visa pages for the visa sticker, entry and exit seals. We apply the Bhutan visa in advance for you and we will email you the approval 3 to 4 weeks prior the trip. Your passport gets actual visa seal upon arrival at the Paro airport or at the Immigration Check Post at Samdrupjongkhar. If you are traveling via Indian cities, you need to obtain Indian visa before your travel begins. If you are traveling to Paro via Bangkok (Thailland) Kathmandu (Nepal) or Singapore you can obtain visa upon arrival.
Group Size : The tour are guaranteed with minimum 1 participants and maximum 18.
Booking/Deposit : When you are sure you are going to Bhutan,and if you choose to fly into Paro valley before visiting the East, it will be wise to put your reservation in line as early as possible as Bhutan Air reservation is quite a tricky matter. Druk Air is the only airlines flying into and out of Bhutan and operates with 2 A 319 craft with capacity less than 100 passengers and gets filled up quickly. Paro International Airport of Bhutan is connected with Bangkok, Delhi, Kolkatta, Kathmandu and Singapore but with limited operations.
A deposit of 20 % on land plus the cost of airfares is requested along with booking application and passport photocopies.
Balance Payment : The balance and final payment is due 45 days prior departure. The payment schedule may vary with customized and private trips on case-to-case basis. All payments as of now has to be made through wire transfer. Credit card payments facilities are yet to be introduced to Bhutan.
Travel Protection Plan : While we do our best to ensure that your trip goes as smoothly as planned, there is always a chance of unforeseen events and conditions such as illness, accident, inclement weather, flight cancellation, missed connection, or loss of baggage etc. which may cause interruption, delay or total cancellation of your trip putting your hard earned travel investment in jeopardy. It's also possible that you may need medical assistance, emergency evacuation or medical transportation when you get ill or involve in an accident when you are traveling in remote areas. Our trip cost does not cover any of these expenses or losses and so we strongly recommend you that you should protect yourself and your travel investment against those unfavourable conditions.
HURRY UP!!! Plan Your Eastern Bhutan Tour with Bhutan Mind Vacation Tours:
Your Happiness Adventure begins right here. We will guide you to experience all that is special about Eastern Bhutan; the spirited local tradition,vibrant culture, architectural marvels, the unmatched beauty of our pristine environment, colorful festivals and exotic adventures in the unexplored mountains of the East. The charm and gracious hospitality of the people of Eastern Bhutan are some of the treats we have in our offer for you.
Do not forget to email us at info@bhutanmindvacation.com or call/whatsapp at +97577636226